Custom Computers by Eric Talaska & EcoWhale
CUSTOM ASSEMBLED IN USA WITH PREMIUM COMPONENTS
Since 2004, Eric Talaska built around a dozen high end computer for his clients and himself.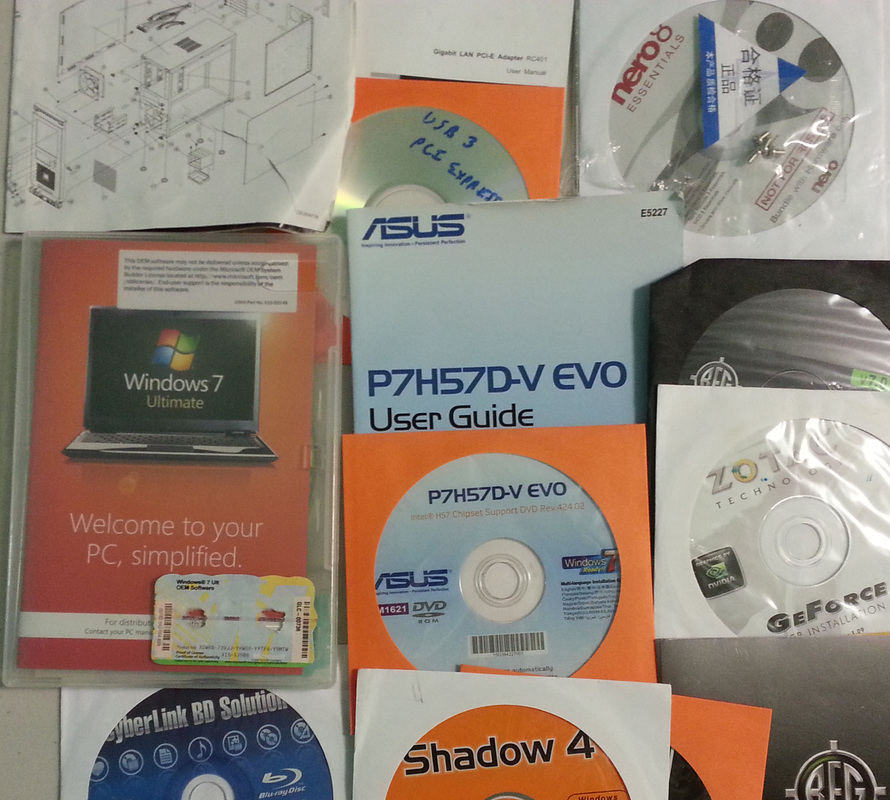 Eric sold the best and last custom computer he built on eBay in August, 2014 after using it for about four years. It was made from the best components available on Newegg.com. He replaced it and his 2011 HP dv7 dual drive 17" laptop with one 12" Microsoft Surface Pro 3 tablet-computer with a docking station. He found that to be more convenient, especially since he is prone to moving frequently and needed it to conveniently go door to door soliciting website design business by showing slideshows on the portable computer.
Includes approx. $200 worth of good accessories as shown.Excellent used condition. Some scuff marks - photos not edited.Reformatted with Windows 7 Ultimate and all drivers installed 8/10/14.OS partition: 128 GB. Data partition: 872 GB.Everything works; no bugs.Extremely fast and reliable bootup; clean - no proprietary software.Physically very clean.No Bios or other login password.Wi-Fi adaptors included (two to choose from).Includes ASUS manual, OS retail, COA, all drivers CDs, Burn software.Heavy: Weighs 25 lbs. excluding accessories. Approx. $1,700 cost to have this built and with accessories.Will ship in original box by Lian-Li (styrofoam protection).
Windows 7 Ultimate 64-bit SP1 Retail Full Version Preferred by most over Windows 8Serial Number: XDWRB-73VJJ-YHWG9-YPTF6-Y9MTWOriginal COA (Certificate of Authenticity), DVD, pamphlet and case
Asus P7H57D-V EVO, SN 9CM0AC832150Realtek High Definition Audio
Intel i5-650, LGA 1156, Code Name ClarkdaleCores 2; Threads 43.2 Ghz, 32nm
Hitachi HDT721010SLA360
1 TB SATA 3.5" 3GB/s
G.Skill Ripjaws for Core i5 & i7 with Heatsinks
DDR 3 1600 Pc3 668MHz2 GB X 4 (8 GB)
NVIDIA GeForce 9800 GT
1GB DDR3PCI Express X16, 1080P, SLI-ReadyIndependent cooling fan with large case fan next to it
LiteOn 8x BluRay DVD+R DL RW, Litescribe, SATA
MSI 8.5 DVD+R DL, SATAMulticard Reader with eSATA and USB7 x USB 2.0, 5 x USB 3.0, 2 x eSATA, 1 x 1394 eSATA, HDMI, DVI, SPDIF, LANYour choice of two different USB wi-fi adaptors
LIAN LI Model PC-60BPLUSII WATX Mid Tower, Solid aluminum, Removable motherboard tray(L x W x H) 8.3" x 17.7" x 19.3", Weight 16.5 lbs. empty, 25 lbs. current buildRocketfish Energy Star (80 Plus) high end power supply with multiple rails